For Cities Bikeshare.Mobility Platform
Derive insights from location data.

Request a demo of our mobility platform for cities.
We solve mobility problems with Location Intelligence through our mobility data analysis platform in combination with our electric bike sharing solution.
Part of the Startup Program
🍪 This website uses cookies to improve your web experience.
Take Back
The Control
The city purchases the E-bikes, owns the bike share system & has control over how, where and when the E-bikes are used.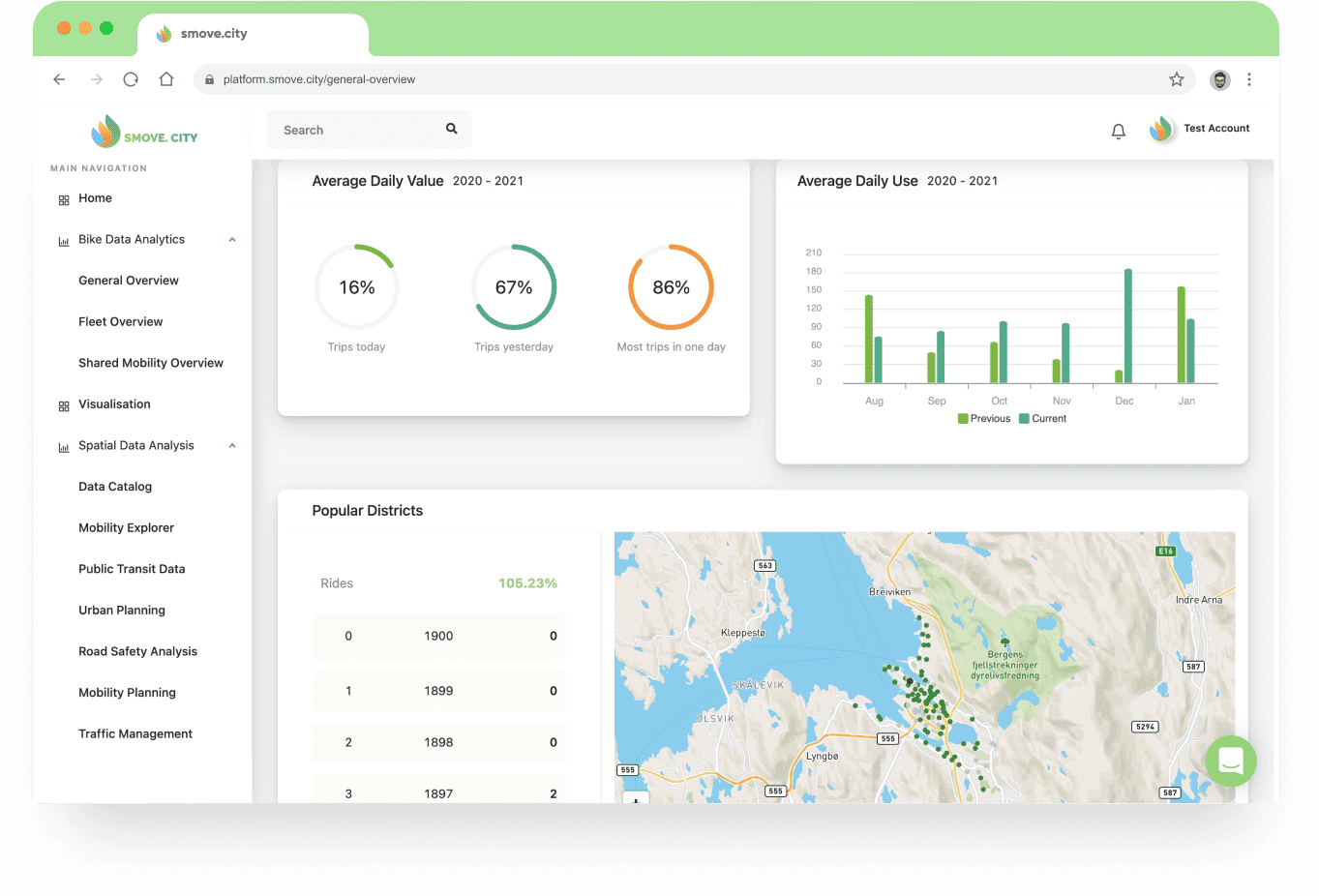 Data Catalog
A wide range of datasets across categories.
Browse the data catalog to discover thousands of public & premium datasets to enrich your analysis and to help you better understand your city.
Thousands of public datasets.
Thousands of premium datasets.
We can show you, better than we can tell you.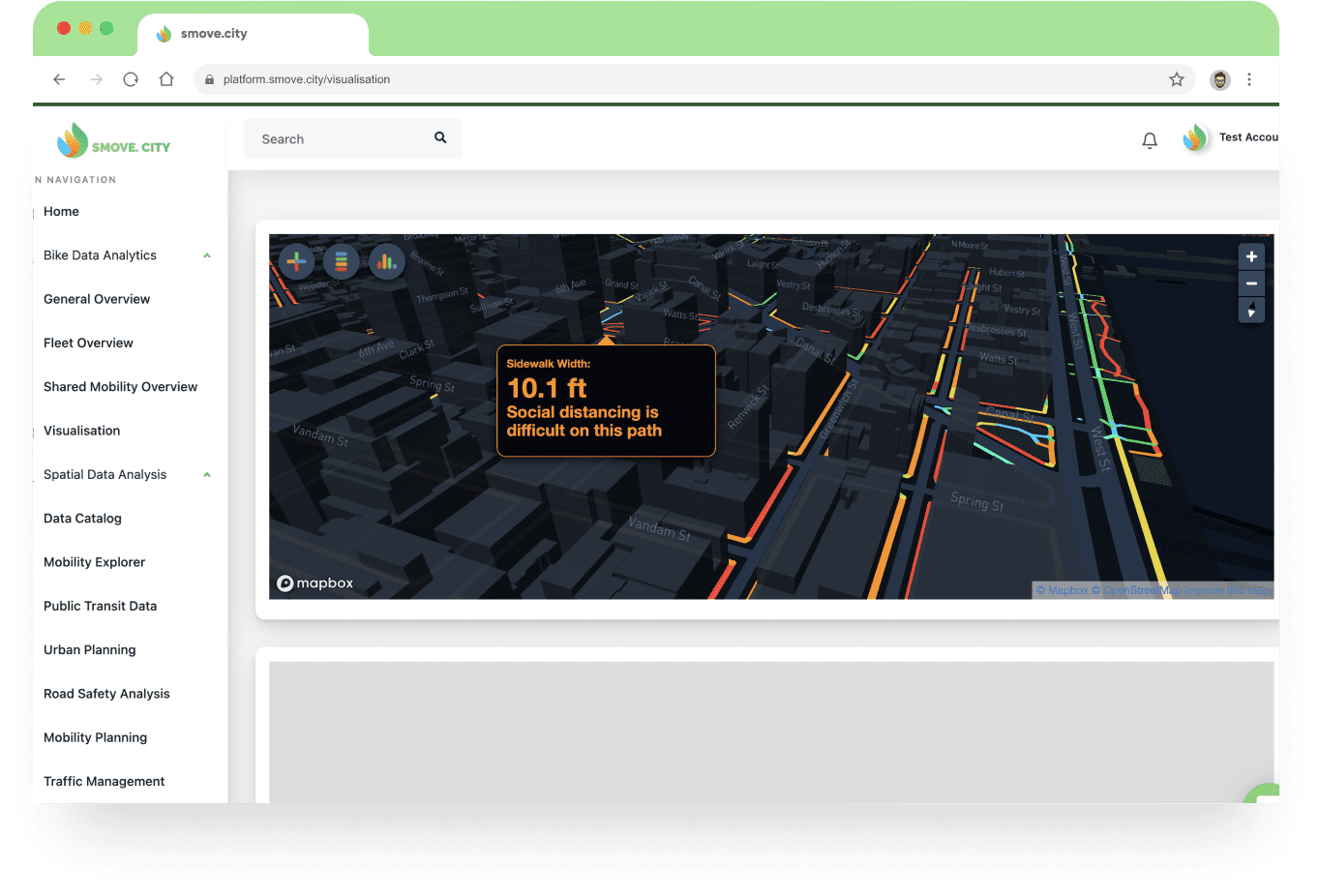 Mobility Explorer
Access 2500 Public Operators Worldwide
Save Time & Money, Learn from similar cities world wide. Why would you spend years on mobility research or on feasibility studies regarding shared mobility implementations in your city, if you could just use The Smove.City Platform to access insights from other cities in just a few minutes?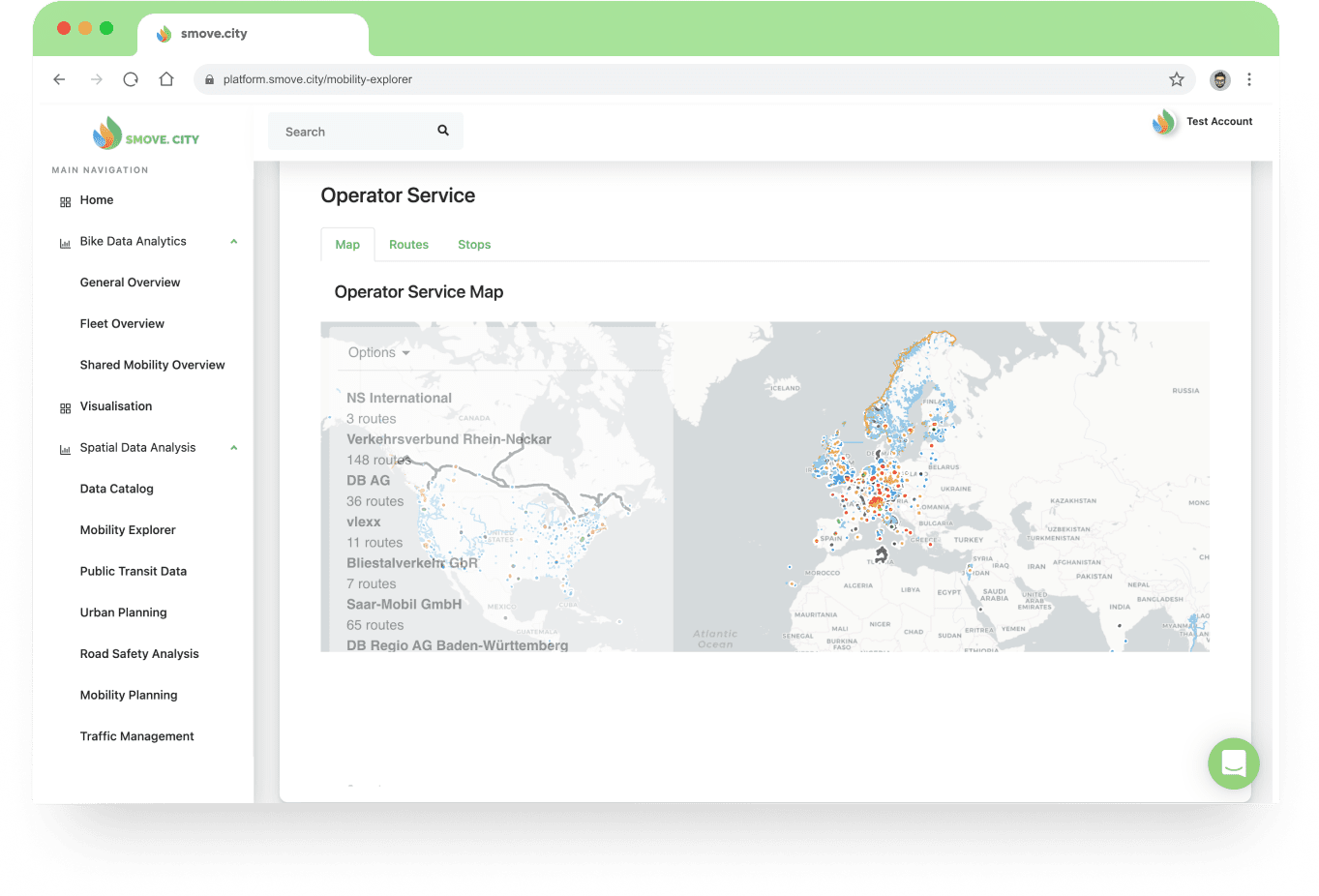 GTFS Real Time
Real time data feeds from transit providers around the world.
Global Transit
We aggregate transit feeds from over 2,500 operators in over 55 countries.
A Global Transit Map
The map is designed to emphasize routes of buses and trains with more frequent service, while still showing the full extend of transit coverage.
Our Commitment To A Better Future.
To solve  societal challenges
you need to look at the bigger picture.

By providing an electric bike share solution and a Mobility Data Platform we give European cities access to useful data and the possibility to tackle societal issues. If used effectively, data can become an enabler for a better society and a more efficient public sector.
SMOVE.CITY Mobility Data Platform
Electric-Bike Share System With Mobile App & E-Bikes
Get started

We have a real impact
Enabler For A Better Society
The challenges our society currently faces, ranging from natural disasters to traffic congestion, are of a scale and complexity that traditional policy tools cannot always address. Data has the potential to not only provide new scientific insights, but also to inform policymaking and deliver better public services. 

Data Solution
Mobility Data Platform For Cities
We provide our mobility data platform to cities who already have bike share solutions but are still in need of a data platform to understand the mobility in their city.

Mobility Solution
Electric Bike Share Solution
For cities who still require a sustainable mobility solution, we provide an electric bike share solution including a mobile application together with our mobility data platform.

All the electric bikes are connected to our platform and the city has the control over the e-bike share system.

Connecting the dots, one city at a time.
The SMOVE.CITY Mobility Platform.
The real value of data does not come from a single dataset, but from combining datasets from different sources.By enabling datasets from different origins to be combined, the Smove.City mobility data platform may produce strong social welfare benefits.
Traffic Accidents Map Analysis
Analytics & Visualisation.
Understand mobility patterns in your city, from shared mobility to people movements.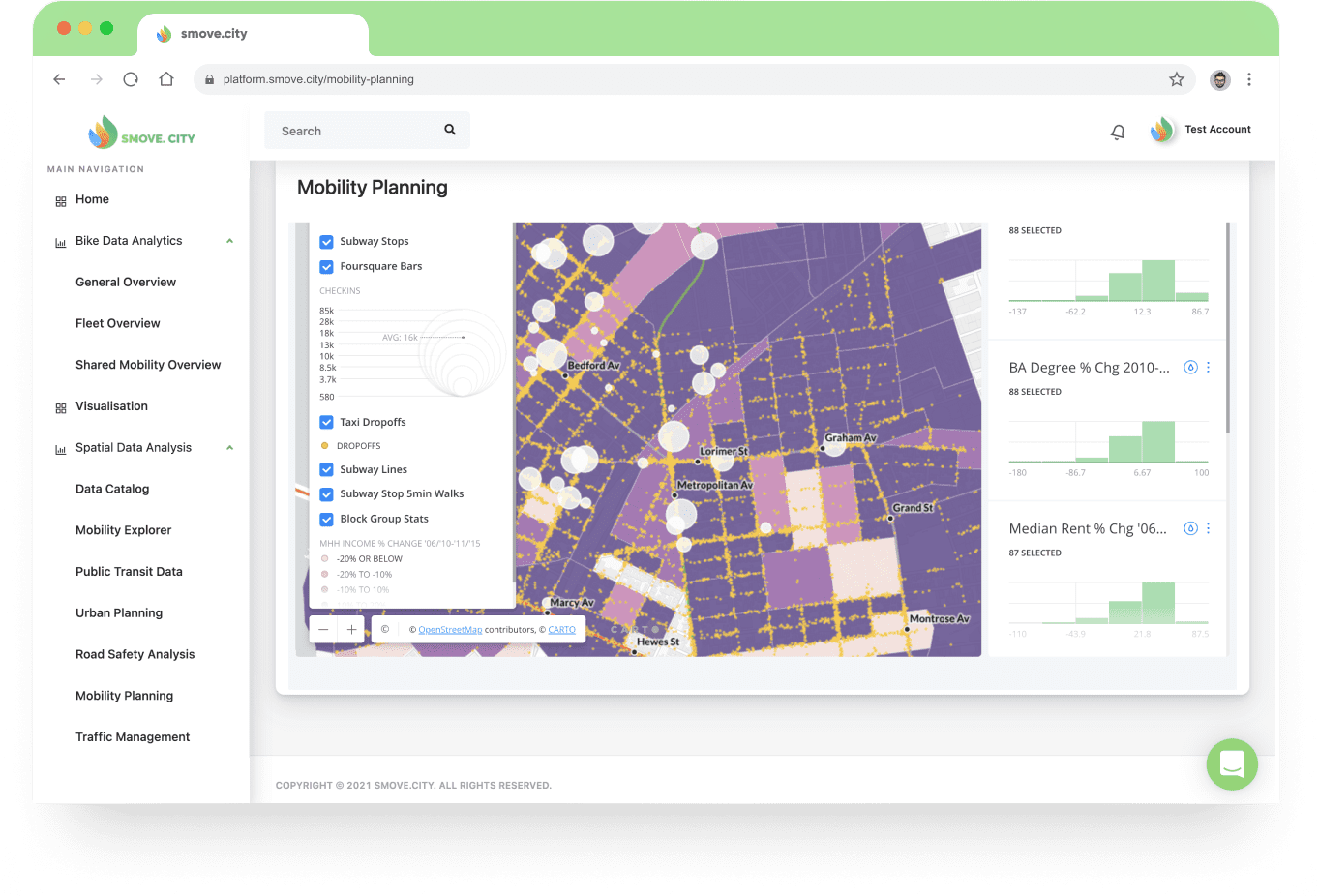 User friendly
Mobile Application
Our electric bikeshare users can lock and unlock our electric bikes easily in just a few seconds.

We provide in app GPS navigation on cycle-friendly routes.

We provide customer support inside the app with our live chat messenger.

We can also be reached by phone or mail directly from inside the app.
Experience
The Future of Electric Bikesharing
With our mobile app, you always have access to our connected electric bikes.
Seamless Integration
We can easily connect to other platforms through APIs and we connect to multiple data sources.
Mobility Planning.
Optimizing public transport infrastructure, such as bikes, buses, trains, & metro services, is paramount in order to reduce traffic & improve road safety.

Explore Your Mobility