Mobility Data Platformfor cities
We are part of their Startup Program
Download Download
We are in the news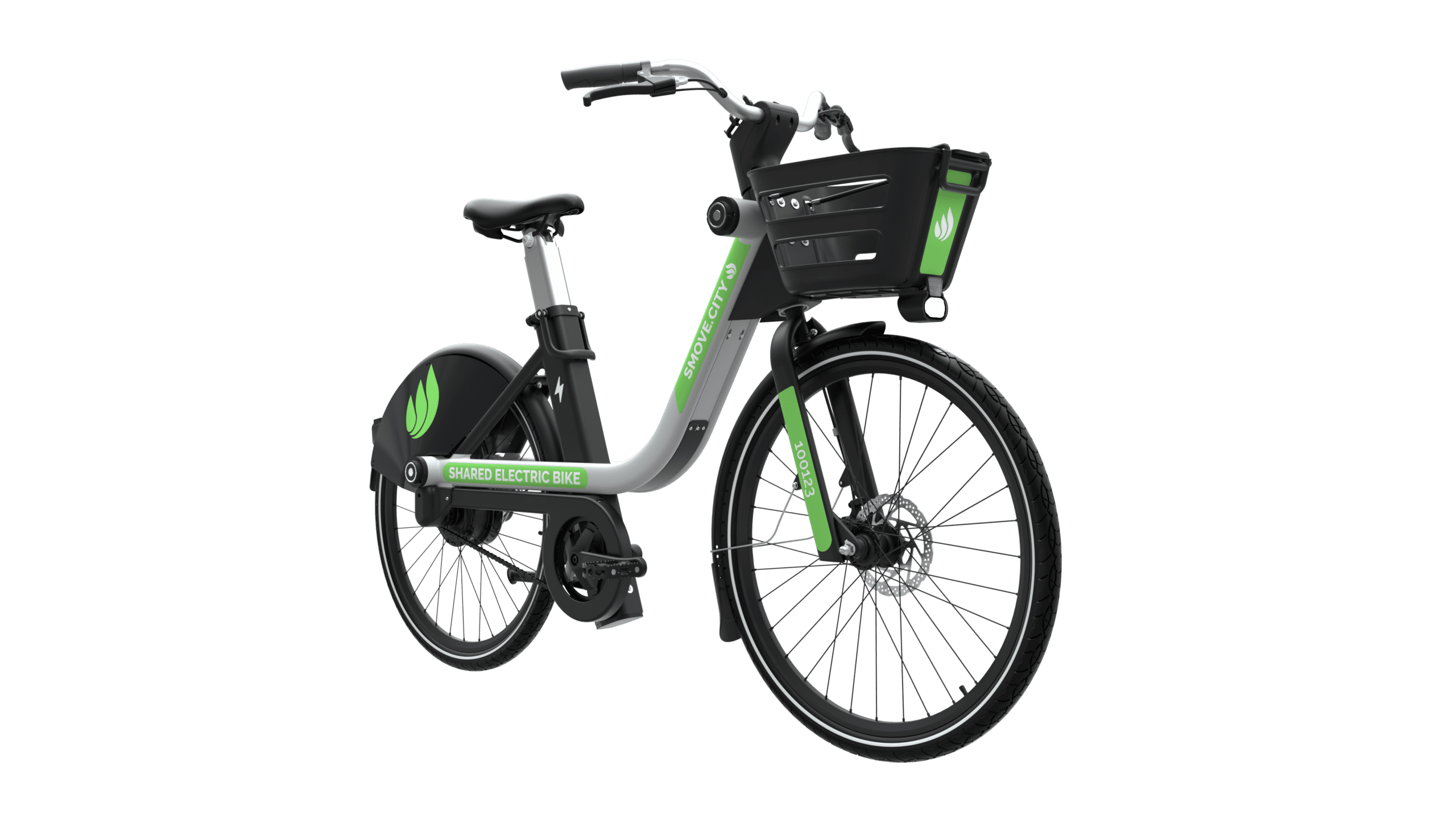 Trusted by some of the most innovative European cities
We embrace holistic city development & support cities that offer & promote sustainable mobility options. However, sustainable mobility options alone don't solve the overal problem. If you want to tackle the bigger issues which are linked to societal challenges, you need to have access to data.

The SMOVE.CITY Mobility Data Platform transforms your city into a smart city using your mobility data. Join us

SMOVE.CITY is a solution provider that gathers & analyzes movement data in public spaces enabling smart, efficient and relevant transport solutions. We combine real-time mobility & big-data to engage with decision makers in urban areas. Our data driven electric bike share solution uses optimized pedal-assist technology to offer you the highest level of performance. Do you have an issue?  You can contact us within our app in the sections "technical Issue", or just chat with us inside the app. You can also give us a call  +32460260263. We are here to help! ❤️
Take Back
The Control
Our mobility data platform gives the control over the mobility back to the city. The city controls how, where and when shared E-bikes are used.
Download Appstore Download Android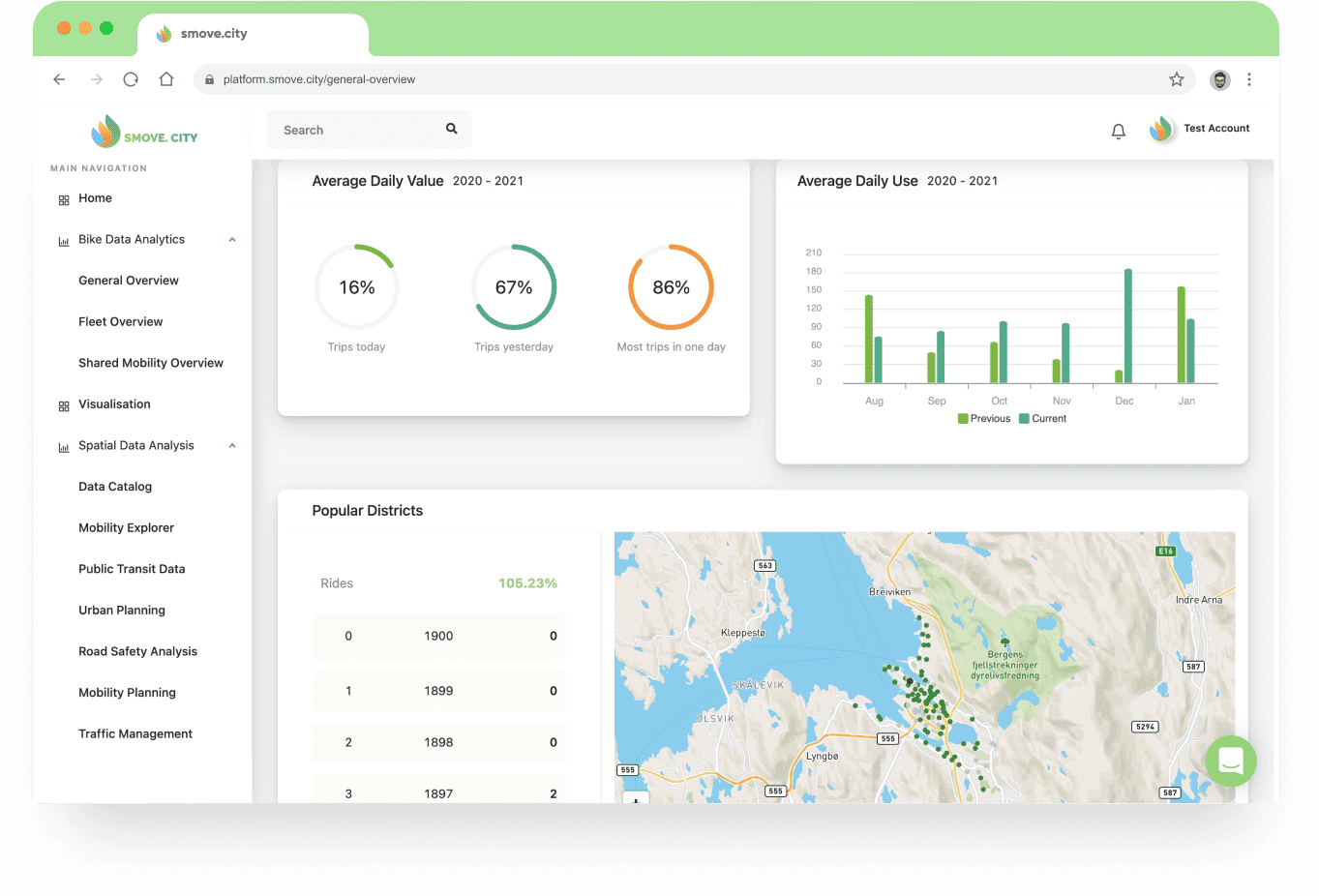 Availablein Kortrijk
The future of sustainable mobility has arrived in Kortrijk. Now you can manage your errands throughout your day and enjoy your weekend adventures in Kortrijk using a Smove.City electric bike. Our data driven electric bike share solution uses optimized pedal-assist technology to offer you the highest level of performance.💚

Download Appstore Download Google Play Store
Data Catalog
A wide range of datasets
Discover the data that makes a difference & helps you build a better city for the future.
Thousands of public datasets.
Thousands of premium datasets.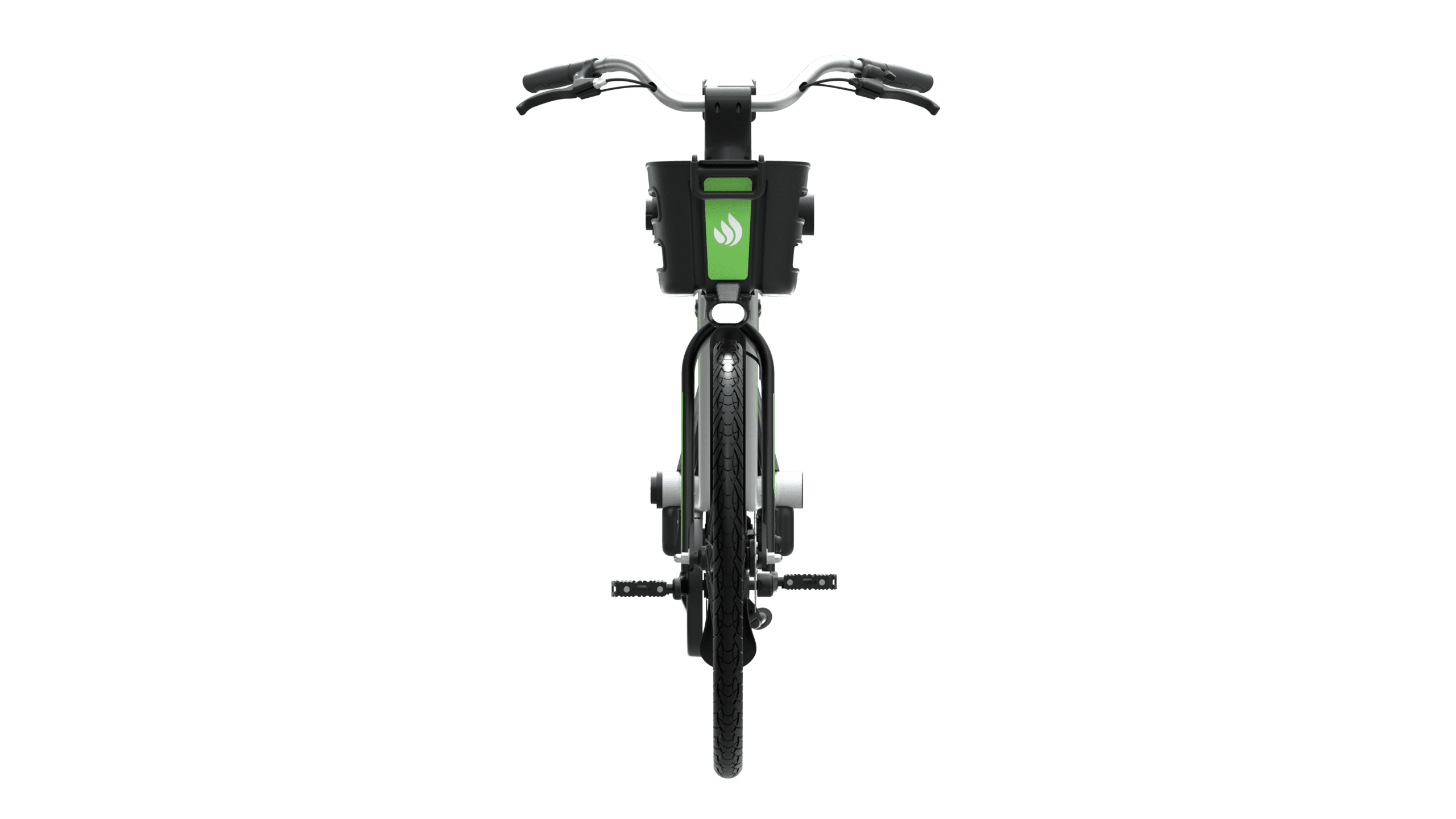 See how it works
Mobility Explorer
Access 2500 Public Operators Data Worldwide
Save time, money & learn from similar cities. Use The Smove.City Platform to access mobility data insights from any city in the world, in just a few minutes.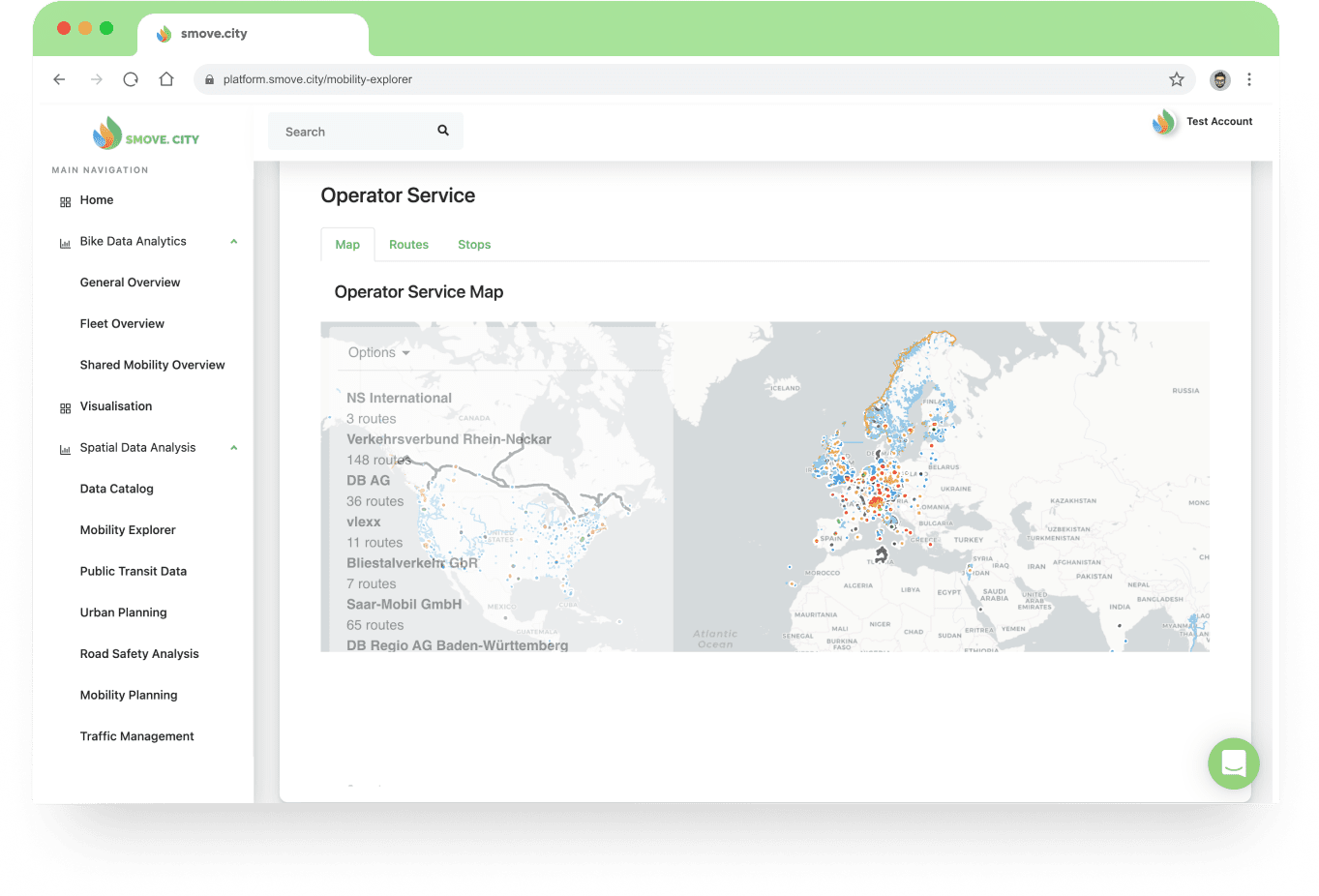 GTFS Real Time
Real time data feeds from transit providers around the world.
Global Transit
We aggregate transit feeds from over 2,500 operators in over 55 countries.
A Global Transit Map
The map emphasises routes with frequent service, while showing the full extend of transit coverage.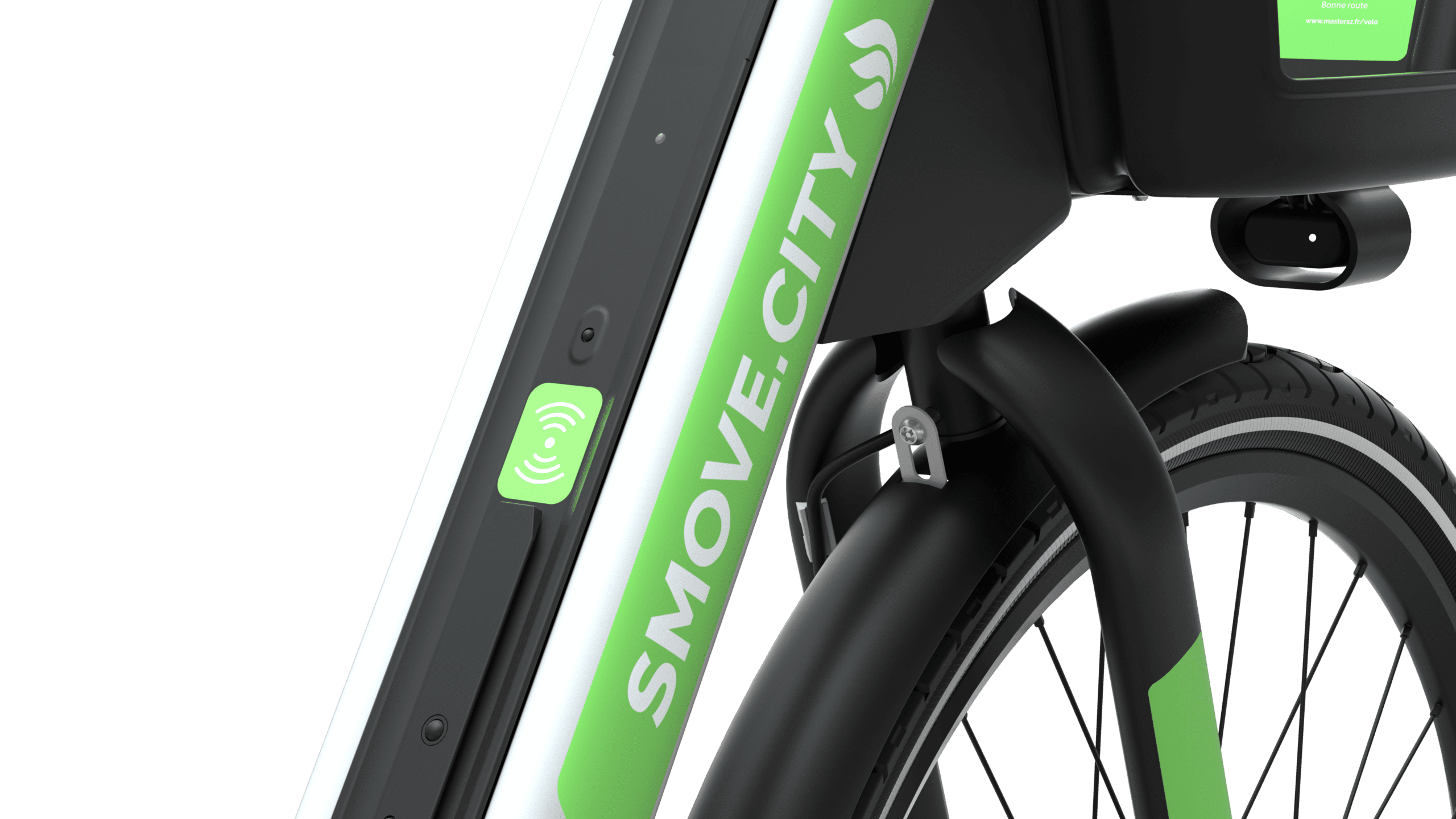 One Platform For All Your Mobility Data
Optimize public transport infrastructure in order to reduce traffic & improve road safety.

Explore Your Mobility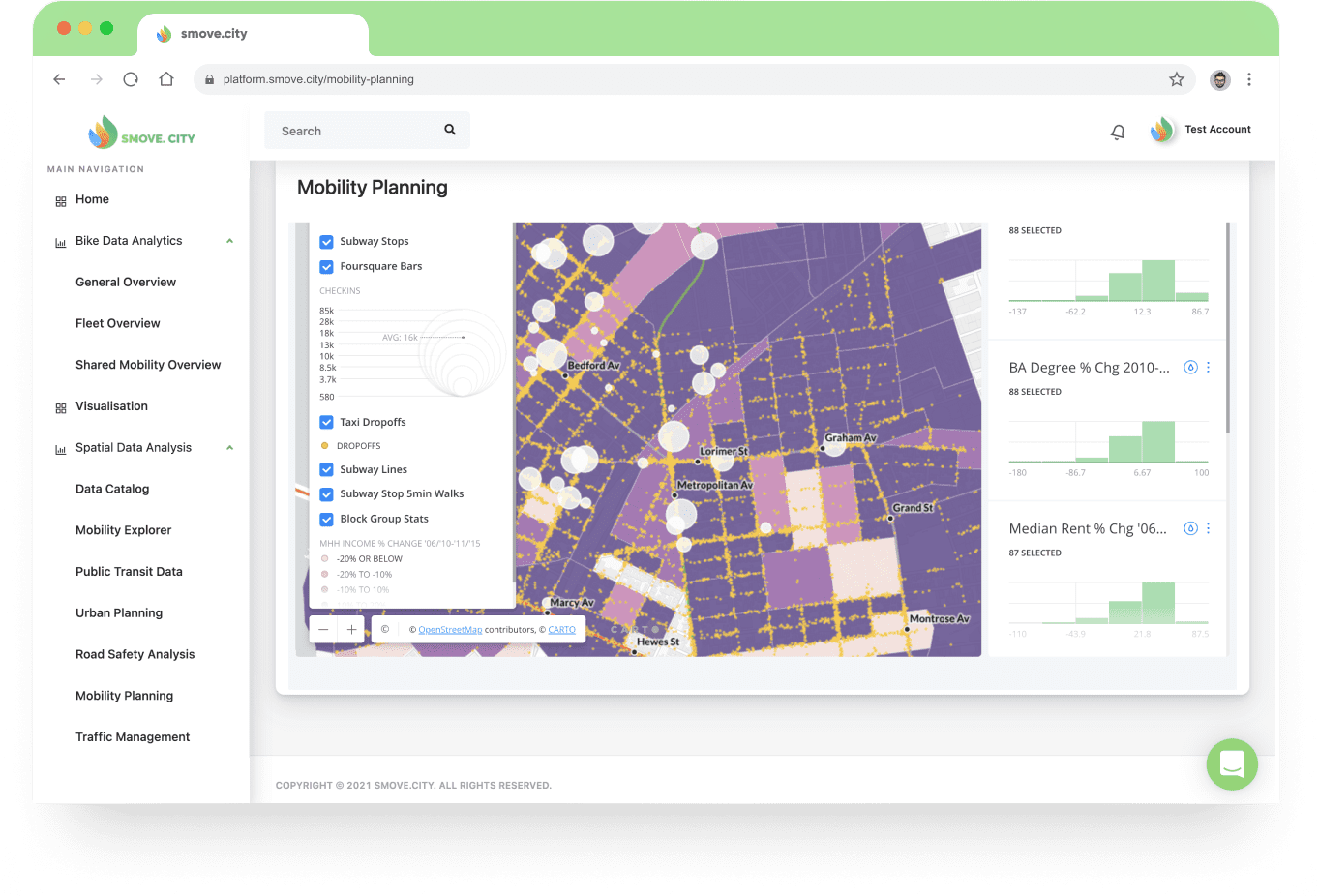 Download Appstore Download Google Play Store
Analytics & Visualisation
Understand mobility patterns in your city, from shared mobility data to human movement data from mobile phones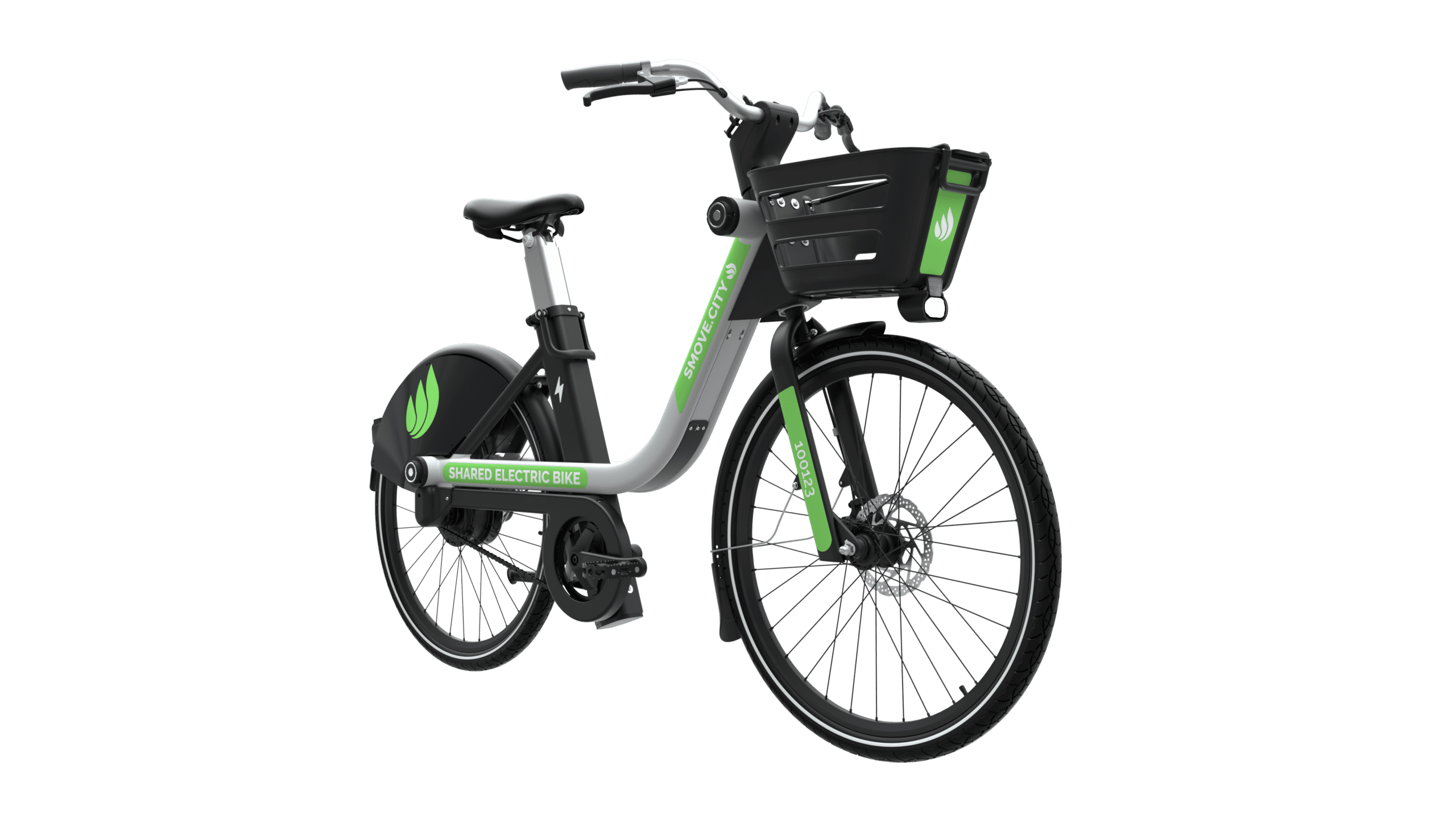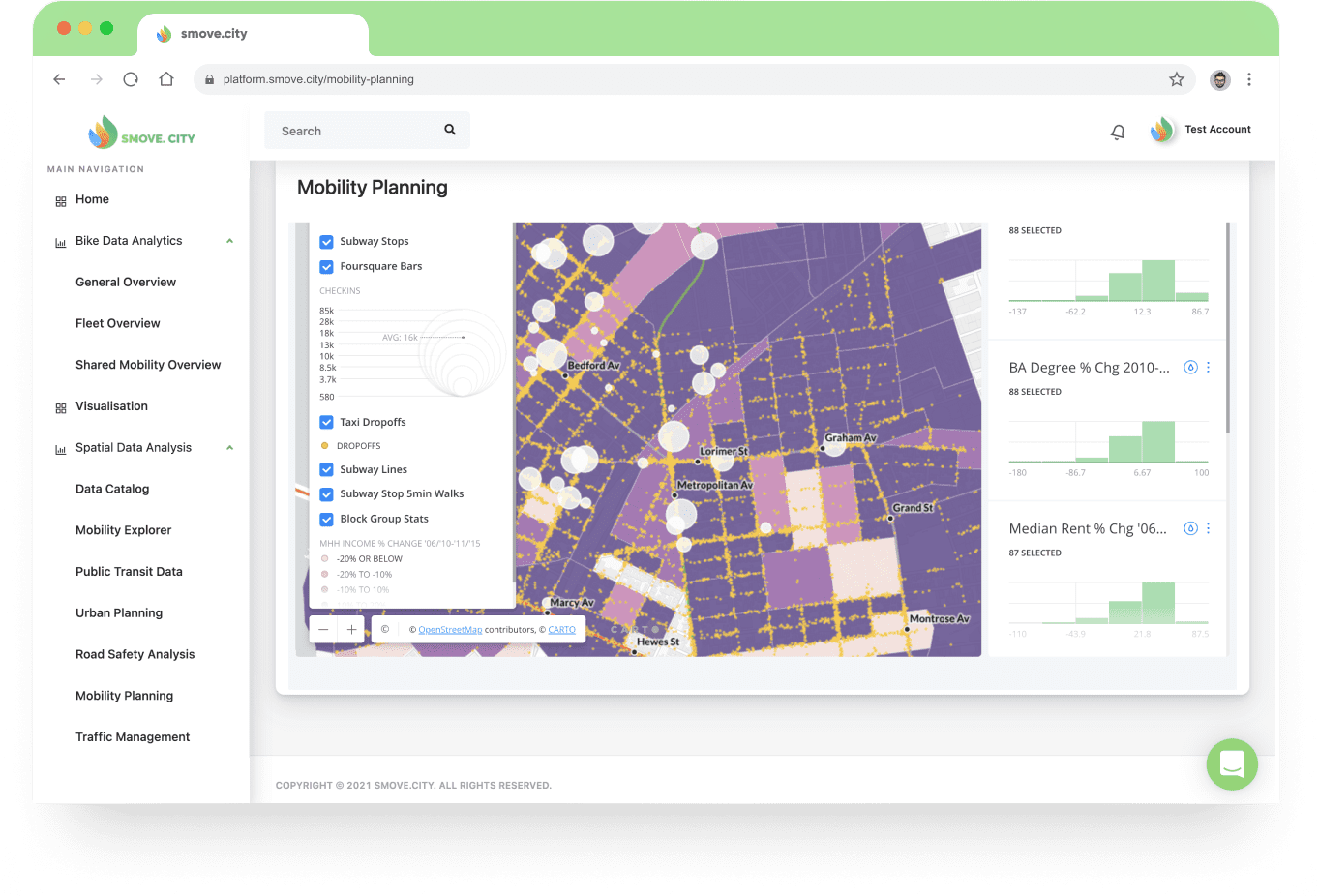 City owned bike share system
Bike Share System
Through the integration of advanced technology Smove.City has developed a state-of-the-art bike sharing system that integrates real-time data analytics, performance management & cloud server technology. The Smove.City platform allows cities to manage their own bike share programs easily & at low cost

Get started
User Friendly App
We provide an innovative, mobile application that allows riders to book an e-bike. Due to the ability for bikes to serve as a temporary shuttle between two points, we are able to help solve many of the problems that occur with public transportation.
Advance Route Information
Our mobile application is integrated with the most innovative maps platform.
Trip Information
We provide all the relevant information regarding the bike trip beforehand.
Bike Rides History
We provide an overview of the past bike rides including all the relevant data and the actual bike ride on a map.

Easily follow on the map where you have been in the past.
See How Fast Your Are Biking
During the bike ride we provide relevant information such as your current speed, time, remaining battery percentage and more.
Report Issues
You can easily report issues inside the app by taking a picture.
Customer Suppert
We provide a live customer support chat inside the app.
GPS Navigation & Autopilot
We provide in app GPS navigation on cycle-friendly routes.

Download Appstore Download Appstore

Connecting the dots, one city at a time.
The SMOVE.CITY Mobility Platform.
The real value of data does not come from a single dataset, but from combining datasets from different sources.By enabling datasets from different origins to be combined, the Smove.City mobility data platform may produce strong social welfare benefits.
Still Have  questions ?
We would love to hear about the mobility challenges your city is facing. Let us help you.
Our team  is committed to provide sustainable smart mobility solutions for the creation of better connected and sustainable societies by closely working together with cities and providing access to real time data.
Constantin Vermoere, SMOVE.CITY CEO
Contact us
We are here to answer any question you may have.

We're interested in
working together

Visit our headquarters
around the world.

81, Griva Digeni Avenue, 6043 Larnaca,  Cyprus

Have a project in mind?
Send a message.

Would you like to join
our growing team?